Radiant skin is a characteristic that most women long for, but unfortunately, 80% of women reach for skin serums, chemical peels and other skin-deep
solutions to achieve glowing skin. What most people don't realise is that beauty starts from within, and radiant skin is achievable by increasing your vitamin intake and getting enough sleep. Kiwis contain various nutrients and Vitamins that contribute towards collagen production, increased sleep quality and reduced blood pressure. Combine these with the benefits of the avocado which is rich in fatty acids and is excellent for moisturizing the skin. In addition to vitamin E, avocado oil contains potassium, lecithin, and many other nutrients that can nourish and moisturize the skin.
The Creamy-kiwi smoothie combines all these amazing benefits into one delicious shake, making it easy to achieve your radiant skin goals. The smoothie is easy, quick and combining it with the benefits of the Neolife Shake will provide you with a full balanced meal on the go.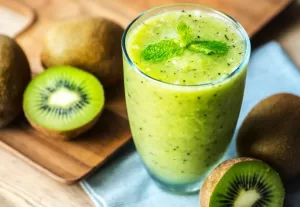 Ingredients:
• 2 Scoops Creamy Vanilla NeoLifeShake
• 1 Cup Honeydew melon
• 1 Kiwi
• ½ Avocado
• 6 Ice Cubes
• 230ml water
Just combine all the ingredients, blend until smooth, and your smoothie is complete!
Give this smoothie a try and tell us what you think, or better yet, show us! Post a picture of your smoothie on Instagram and/or Facebook and tag Balance4life.